European Chips Act and Upcoming EU Semiconductor Projects for 2023-2024
Richard Casey, PDG Operations Director, Advanced Technology Group
In previous blog posts there has been much focus on semiconductor construction projects in the United States. For this blog let's have a look at Europe.
Semiconductor manufacturing in Europe:
Europe has a vibrant semiconductor manufacturing industry with a significant presence from most of the key providers. At last count, there are 60 operating fabs in Europe, 7 in construction, and 8 more in the planning stages. Two of the seven fabs in construction and all 8 in the planning stages have been enabled by the European Chips Act.
What is the EU Chips Act?
The EU CHIPs fund has been established to enable European semiconductor manufacturers to increase capacity and manufacturing capability. The fund has been established based on a risk analysis completed by the European Commission to determine the gaps in the EU's capability to support the global semiconductor supply chain. The risk assessment identified five areas for improvement, as outlined below.

EU Chips Pillars. Source: European Commission report on Chips Act
The EU commission have allocated €43 billion of funding which will be made available via a combination of increased funding via the existing Horizon and Digital Europe programs and a private-public standalone investment fund of €15B [1]
Where in Europe?
Since the announcement of the EU Chips act all of the above have announced their intentions to set up semiconductor facilities in Europe.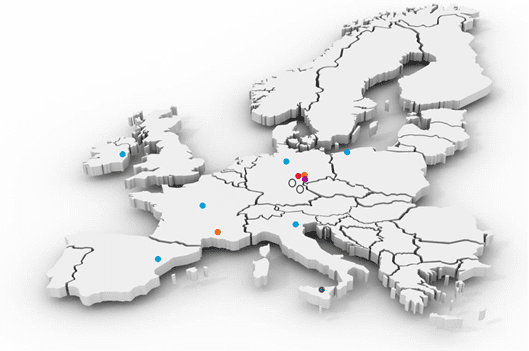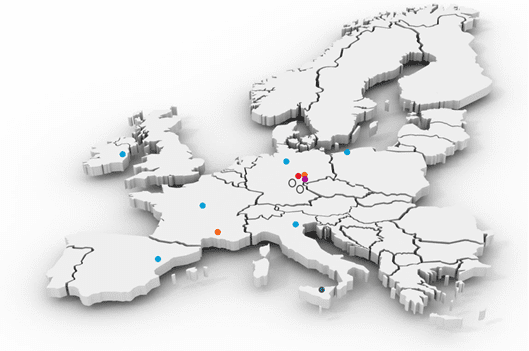 Map of Announced-Planned Builds in Europe for 2023 – 2024. Source: FLMSolutions project tracker
Several countries already have active semiconductor fabricator projects. Ireland has the ongoing Intel F34 newbuild, which is currently on track for production capability in 2023. Germany will see the largest increase in construction due to several new build and expansion projects. Other countries such as France, Poland, Spain, and Italy will also see projects in the 2023-2024 timeframe.
So, who is building?
Intel have chosen Magdeburg, Germany, for the location of a similar facility with a groundbreaking sometime in 2023. Intel have also announced the establishment or extension of facilities in Poland, France, and Spain, and most recently Italy.
Global Foundries [2] have communicated the expansion of their Dresden, Germany facility, due to start in 2023. GF have announced plans to increase its global capacity from 300,000 wafers to 850,000 wafers over the next 2-5 years. An investment of $1B in the Dresden site and a partnership with STMicroelectronics to open a facility in France, will double the presence of GF in Europe.
Bosch [3] recently completed the phase 2 construction of a 300mm fab in Dresden, Germany. Focusing on the increased demand for automotive integrated circuits for automotive and electric vehicles, Bosch is focusing on expanding its capacity at the Dresden site over the next 2 years.
Infineon [4] have multiple fabs located globally, with a European presence in Austria, Germany, and Hungary. Based on increasing demand, Infineon have approved a $5B budget for a new 300mm Fab in Dresden, with a construction start in 2023. Infineon recently completed a 300mm Fab in Villach, Austria, which will be used as a reference site for the next expansion.
STMicroelectronics [5] are a powerhouse semiconductor manufacturer with 14 manufacturing facilities globally, six of which are located in Europe. A foundry-based business, ST focuses on developing chips for smart mobility, power & energy efficiency, and the IoT markets. To respond to demand, ST are building a silicon carbide substrate facility in Italy. The site will be situated alongside the existing plant in Catania and will process 150mm wafers.
Wolfspeed, formerly known as Cree, focus on the development of chips for the automotive industry and have existing manufacturing facilities in the USA and Germany and is currently in the process of extending its existing site and seeking planning for a new facility, most likely also in Germany.
And who is planning?
TSMC [6] and Samsung [7] have announced that they are 'seeking' sites in Europe to balance their supply chain. Neither company have existing facilities, but the rumblings are that these will also be mega sites similar in size to their existing plans in the US. Texas Instruments currently have an existing facility in southern Germany, but no plans have been announced! Also, nothing (yet) from Micron!
Summary
In total, up to 12 facilities are in a stage of construction or have requested planning for facilities in Europe. The list grows monthly as other manufacturers take advantage of the funding being made available by the EU Chips Act. If all come to fruition, they will help balance out the European portion of the global semiconductor supply chain. There are many other retrofit-conversion and expansion projects ongoing which will be the subject of a future blog.
References:
[1] https://ec.europa.eu/info/strategy/priorities-2019-2024/europe-fit-digital-age/european-chips act_en#:~:text=The%20European%20Chips%20Act%20will,technological%20leadership%20in%20the%20field.
[2] https://www.investmentmonitor.ai/news/globalfoundries-investment-semiconductor-production-dresden
[3] https://www.sae.org/news/2022/07/bosch-300-mm-chip-plant
[4] https://www.infineon.com/cms/en/about-infineon/press/press-releases/2022/INFXX202211-025.html
[5] https://newsroom.st.com/media-center/press-item.html/c3124.html
[6] https://www.reuters.com/technology/taiwan-says-chip-companies-talks-about-europe-investment-2022-09-28/
[7] https://amp-kedglobal-com.cdn.ampproject.org/c/s/amp.kedglobal.com/newsAmp/ked202210190011