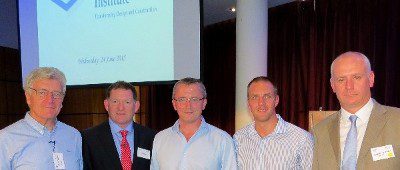 If you were looking for someone to do with the Construction sector in Ireland on the evening of Wednesday 24th June, you would have had to travel to the Clarion Hotel in Dublin to find them. The Lean Construction Institute of Ireland hosted its Summer Event entitled Going from Good to Great. The event sponsored by DPS Engineering, was attended by ~230 people making it the biggest LCI Event to date.
Presentations on the night from John McGowan, DPS, and Farrans Construction proved to be well worth travelling for. John gave a captivated audience a brief synopsis of Lean in the context of digitising Construction, while Sean Bradley and Wesley Calvin from Farrans Construction brought us through their case studies on the results that introducing Lean into their organisation has had on their bottom line.  Pictured above (L to R): John McGowan (DPS), Pat McIntyre (DPS), Sean Bradley (Farrans Construction), Wesley Calvin (Farrans Construction), Fergal Scanlon (LCI core team & M&W).
There were three workshops held after the keynote speeches: Waste Walks presented by Peter Cooney, Ray Curley and Simon Watson from Jones Engineering; Direct Observation presented by Gerry Walsh from Mercury Engineering; and Plan, Do, Check, Act presented by Richard Casey from DPS Advanced Technology Group (ATG).
Feedback from the guests on the night hailed the event a success with some having attended previous events in the past while others were attending an LCI event for the first time. Each attendee interviewed said the workshops were excellent and requested that more time be added to these exercises in the future. With so many attending from every corner of the Country, it just goes to show that Lean has become a vital component of Construction Projects in Ireland. LCI as a Community of Practice will continue to support everyone who wants to learn more about Lean. For further information on future LCI events, please visit their website or connect with Lean Construction Ireland via LinkedIn.