Hovione Cork win at the 2019 National Project Awards, Ireland Chapter of PMI
The winners of the 2019 National Project Awards were announced on November 14th with DPS Group client, Hovione Cork receiving the "Project of the Year 2019 in the Private Sector" award. The black-tie event in PwC, Spencer Dock, Dublin was sponsored by the Ireland Chapter of Project Management.
Hovione Cork received the award for the re-launch of Building 2, a landmark manufacturing facility in Ringaskiddy. The award was presented to Alexandre Matos, NPI Project Manager at Hovione Cork.
Speaking on the winners, President of the Ireland Chapter of PMI Pat Lucey, stated: "From implementing new technology that builds a better health service to the recommissioning and qualifying of a full-scale manufacturing facility, the 2019 winners of the National Project Awards are hugely diverse but are linked through their exceptional use of project management to deliver complex projects."
Commenting on the win, Dr. Paul Downing, General Manager, Hovione Ireland said: "This external independent accreditation and recognition of a major team effort across all of Hovione, our partners, suppliers, service providers and clients is cherished.  This is a milestone in the Company's history.  The collaboration with DPS was refreshing, challenging and innovative.  Hovione truly values DPS as a strategic partner."
"We are delighted to have worked with Hovione to bring this new state-of-the-art facility to successful completion," said Aiden O'Dwyer, Cork Operations Director, DPS Group. "It is extremely gratifying to deliver on Hovione's vision, and the team enthusiastically adopted the DPS Group model using Last Planner and Target Value Design; bringing their first project in Cork in on time and budget. DPS Group warmly congratulate Hovione on winning this prestigious Private Sector Project of the Year Award."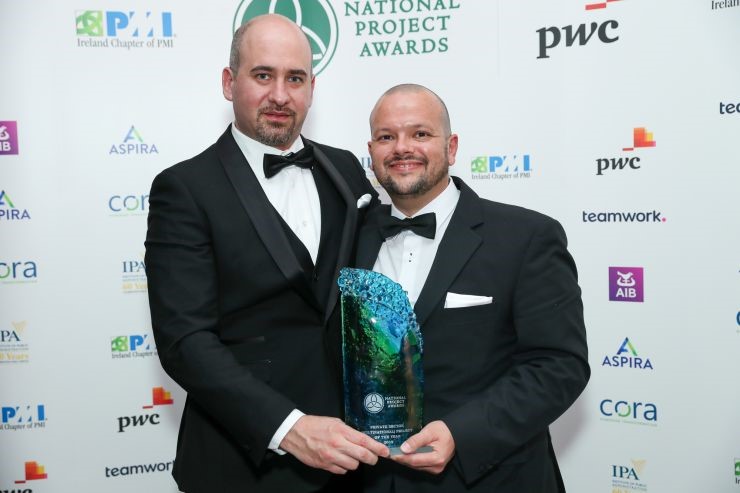 Pictured: Jorge Falcão (Automation Manager) and Alexandre Matos (NPI Project Manager)