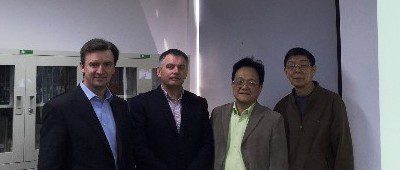 DPS, the Irish group which specialises in engineering design and project management for the pharmaceutical and high technology industries, has expanded its business in China through a strategic partnership with the Shanghai-based group MAA Engineering Consultants.  This is the fifth strategic partnership that DPS has established with engineering companies in developing countries and follows similar partnerships in India, Russia, Brazil and Turkey.
DPS Managing Director Frank Keogh said that MAA Engineering, with a diversified engineering design business, is the ideal partner to help DPS grow its business in China. "The Chinese market, for the sort of services we provide, is enormous and it will greatly assist DPS to grow a presence in China with a local partner of the calibre of MAA."
Frank Keogh said: "DPS has been expanding at a phenomenal rate over the past couple of years and we now have a turnover in excess of €80 million and employ more than 800 people in Ireland, continental Europe and the United States.  In recent years we have expanded our business in the key United States market through the acquisition of engineering consultancies in Boston and North Carolina.
"Developing a presence in developing economies does require a different model and we believe the arrangement where we set up partnerships with local engineering companies is the best route into these new international markets for DPS," Frank Keogh added.
MAA Engineering was established in 1994 to provide design, consultancy and project management for chemical, petrochemical, pharmaceutical and general industrial facilities. The firm has successfully delivered over 700 projects, providing integrated solutions for the clients.
Pictured at the announcement in Shanghai of the link up between DPS and MAA are (from left): Joe Kane (Operations Manager Dublin, DPS), Gerry Hamill (Director Business Development, DPS), Yao Guan Xin (General Manager, MAA) and Zhu Ji Chong (Senior Director, MAA).