Project team designs and delivers an ambitious, integrated, end-to-end process facility for the research and manufacture of Moderna's pipeline of mRNA-based medicines
BOSTON – July 20, 2018 – DPS Group, a privately-owned, global engineering, procurement, construction management and validation (EPCMV) firm serving high-tech process industries, and design affiliate TRIA, a partner-led architecture firm with a focus on science and technology organizations bringing new discoveries to the market, are pleased to announce the completion of a new 200,000 SF Current Good Manufacturing Practices (cGMP) mRNA clinical manufacturing facility for biotechnology company, Moderna Therapeutics. DPS and TRIA provided full architectural, engineering design, and project management services for the new clinical development manufacturing facility located at One Upland Road in Norwood, Mass. The facility's official opening was marked by a ribbon cutting ceremony held on July 17th.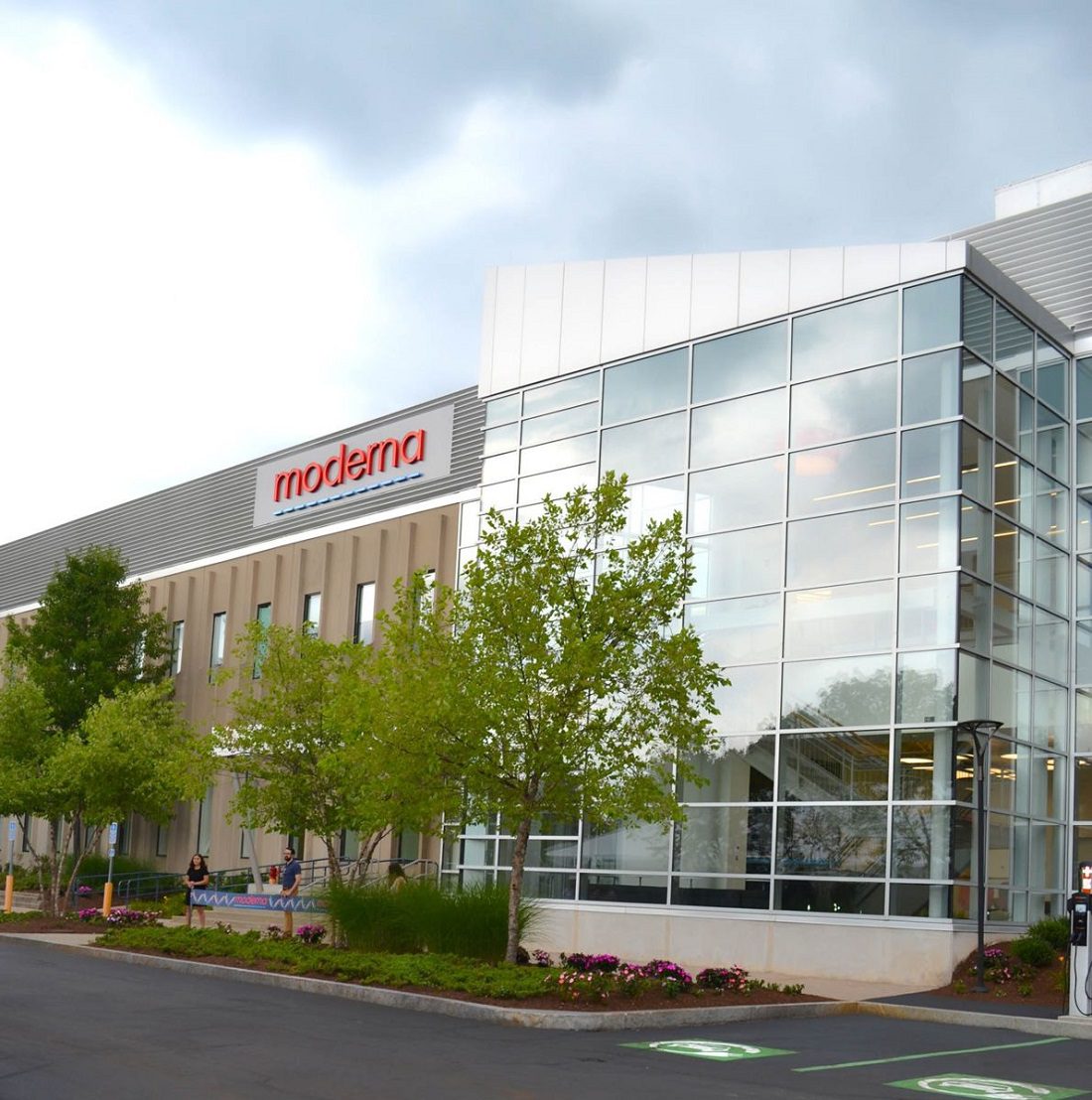 Moderna is a clinical-stage biotechnology company pioneering messenger RNA (mRNA) therapeutics and vaccines to create a new generation of transformative medicines for patients. The company's Norwood facility provides the capacity to develop materials for pre-clinical toxicology studies, as well as Phase 1 and Phase 2 clinical development programs. It also has the capability to support new medicines enabled by Moderna's mRNA platform.
"Our Norwood site gives us capability to manufacture materials for our pre-clinical and early-stage development programs for our portfolio of mRNA development candidates," said Steve Harbin, Moderna's Norwood manufacturing site lead. "DPS Group brought a tremendous depth of cGMP facility design experience to this ambitious project, and TRIA's lab and workplace design expertise helped us to create an innovative work environment for our employees. With the completion of this facility, we have taken an important step in our efforts to advance new mRNA-based medicines and support our robust pipeline."
As project architect and engineer of record for this project, DPS provided full engineering design and architecture services for all areas of the facility, including cGMP clinical manufacturing, drug substance suites, formulation, aseptic filling, plasmid production, quality control laboratories, pre-clinical laboratories, toxicology laboratories, and clinical and pre-clinical warehouses. DPS engineers and architects are highly skilled in executing the design of modern, compliant cGMP facilities for the manufacturing of innovative, safe and quality products.
DPS Group Chief Executive Frank Keogh said: "We are delighted to have worked with Moderna to bring this new state-of-the-art facility for the research and manufacture of a new generation of transformative medicines to completion. This project drew on all of the engineering, architectural and project management skills that DPS has developed in the USA since we first established here seven years ago."
TRIA combines a collaborative design approach with a deep understanding of the unique needs of science-based organizations to create spaces where innovation can happen. As lab architect and interior designer, TRIA designed the office and lab areas, including three clinical labs, a glass-walled tour experience showcasing Moderna's discovery and manufacturing process and an open office environment with flexible seating, collaboration areas and transparency to create visual connections between the office and lab/manufacturing spaces. Moderna's culture and branding were key components in the design, with branding prominent throughout the entire facility. An employee amenity wing offers a lounge to gather and collaborate, a full-service dining facility and a conference center.
TRIA and DPS collaborated closely to ensure that all clinical and non-clinical program elements were designed in harmony with one another.
Previously located across three facilities in Cambridge, Mass., Moderna's new, two-story facility consolidates elements of the company's development, operations and nearly 200 employees under one roof. Designed and built on a two-year, fast-tracked schedule, the technically complex facility was also designed to achieve LEED certification. The 28-acre suburban campus includes walking paths, electric car charging stations and a fitness center with bike storage.
The project team included:
Project Architect and Engineer of Record: DPS Group
Lab Architect and Interior Designer: TRIA
Construction Manager: Wise Construction
Owner's Rep: Hereva Consultants
Validation: ValSource
Structural Engineer: Pare Corporation
Civil Engineer: Kelly Engineering
Code Compliance Consultant: Jenson Hughes
Landlord: Alexandria Real Estate
MEP Start-up Coordination and Operations: 42 North Solutions