Dublin, 26th November 2014: One of Ireland's leading engineering groups is to mark 40 years of success with the creation of 80 new jobs in 2015, having increased its turnover by 35% and its workforce by 50% in the past three years alone.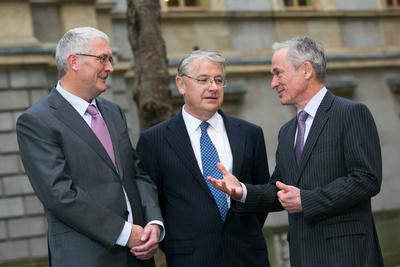 DPS, a wholly owned Irish company, recently experienced further growth on a global scale, with the acquisition of two American firms: Biometics in Boston, Massachusetts and Project Planning and Delivery (PPD) in Durham, North Carolina, as well as the opening of an office in Mechelen, Belgium.
With turnover having increased from €55,000,000 in 2012 to a projected €75,000,000 in 2014, and the workforce going from 530 to 810 in the same time period, the company is set to expand further in the next number of years. Of the 80 jobs forecast for 2015, more than 50 will be in Cork and Dublin, with the remainder in mainland Europe.
DPS has been supported by the Department of Jobs through Enterprise Ireland.
Speaking about its 40 years of success, Managing Director of DPS  Frank Keogh said: "DPS has seen phenomenal successes in the past few years, with the creation of 280 new jobs in three years and our expansion into the US. Based on significant recent wins in mainland Europe focused on advanced technology, we expect to be employing 900 people by the end of 2015."
Welcoming the announcement, Minister for Jobs, Enterprise and Innovation Richard Bruton said: "At the heart of our jobs plan is creating a powerful engine of Irish industry alongside the strong multinational sector which we have built up. Through our Action Plan for Jobs we have put in place measures to support our brilliant Irish companies, and we have seen major progress in job-creation by these companies. Today's announcement by DPS that it is creating 80 jobs over the next year, fuelled by rapid export growth, is a great example of what we are trying to achieve. I wish DPS every success with this project."
The company, which is headquartered in Ireland and has offices in Dublin and Cork as well as in Saudi Arabia, the Netherlands, Israel, Singapore, the US and now Belgium, is set to undergo a full rebrand to reflect the significant growth it has seen. The rebrand is aimed at increasing company profile in the market place, both nationally and internationally. DPS is an Enterprise Ireland client.
Formed in 1974, DPS (Design and Planning Services) serves a range of blue chip clients across a broad spectrum of industry, predominantly the pharmaceutical, life science, advanced technologies and oil and gas sectors.  It offers a range of services, including project management, planning, engineering design, construction, professional outsourcing and consulting.
DPS  is to mark its 40 years of success with an event at the RDS, Dublin, on November 26th, 2014.