Environmental, Social, and Governance (ESG)
Environmental, Social, and Governance Statement
DPS is an innovative and entrepreneurial project management and engineering company that puts our clients' interests first, with a great emphasis on people before process. In support of this, we are committed to our Environmental, Social, and Governance (ESG) policy. These three central factors; Environmental Sustainability, Social Responsibility, and Governance, monitor and measure our business's sustainability and societal impact. As a result, ESG plays a key role in how we think and act, both for DPS and how we help our clients with their ESG goals.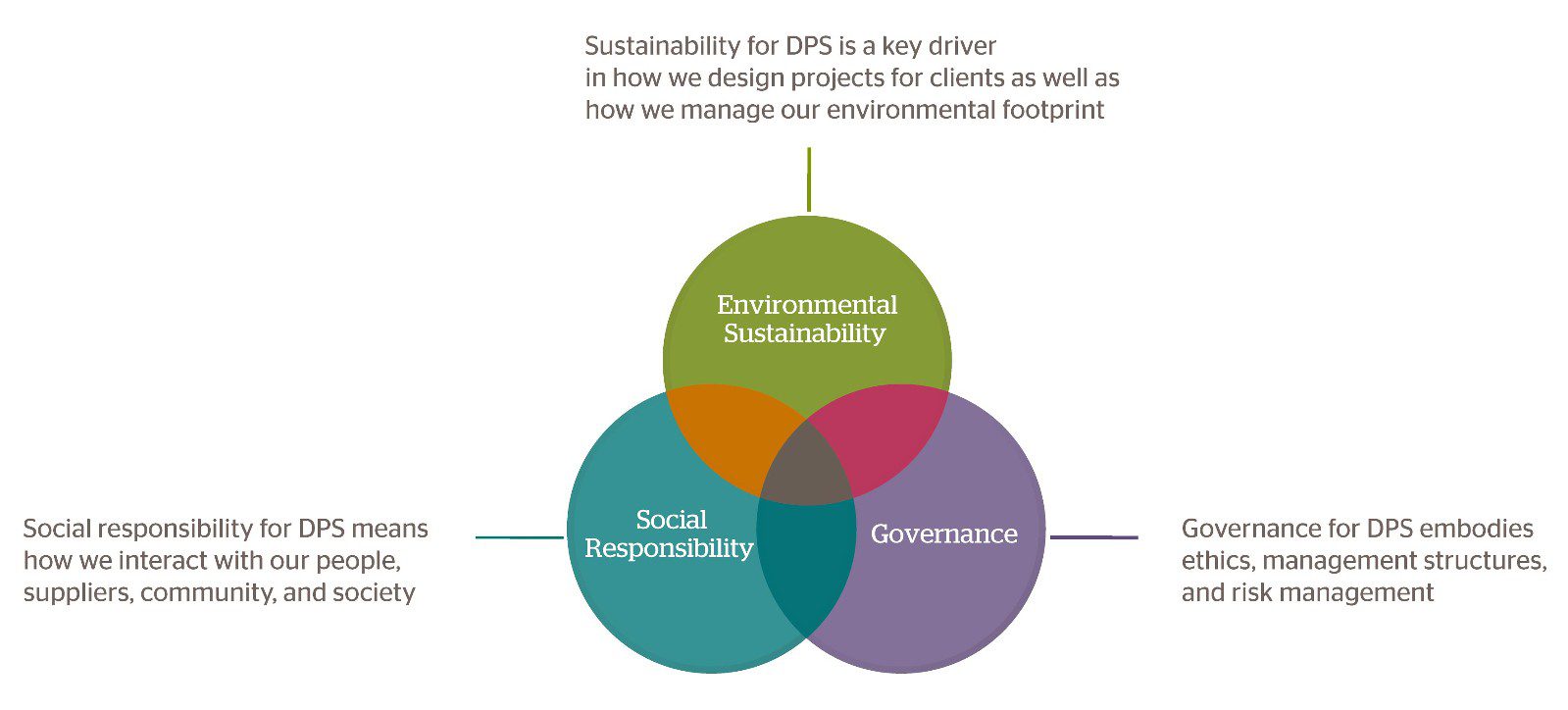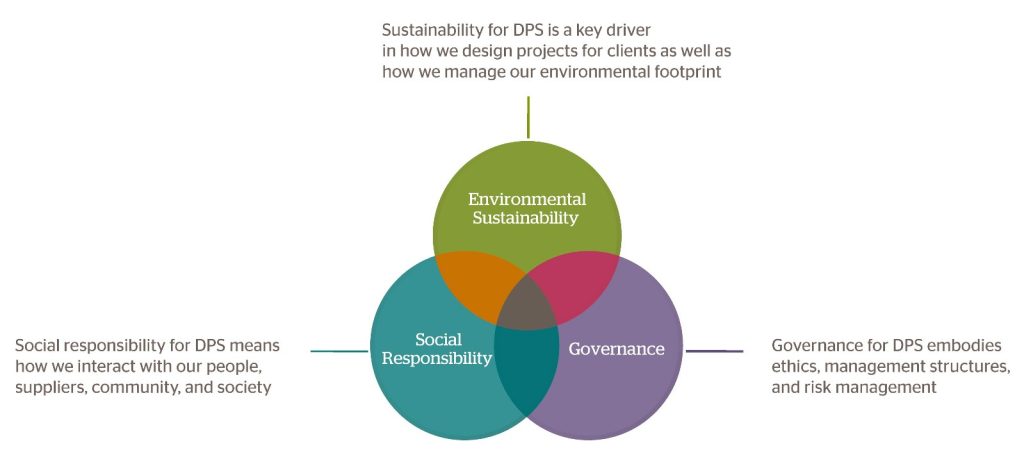 Environmental Sustainability (E)
Sustainability for DPS is a key driver in how we design projects for our clients as well as how we manage our environmental footprint:
Our starting point is usually our clients' science-based targets for greenhouse gas emissions. Other client medium-term objectives include water usage, waste generation, and bio-diversity.
DPS delivers innovative and sustainable solutions for manufacturing facilities. We have expertise in designing facilities to achieve NZEB, LEED, WELL, and BREEAM certification, including low-carbon-embodied building fabrics and on-site renewable energy sources. We access the available solutions and design to achieve optimum sustainability.
We are experts at process modeling, which optimizes manufacturing processes, and select vendor equipment to improve sustainability, not just for ongoing operation but over the lifetime of a facility.
We assist clients with the retrofit of existing facilities to reduce energy consumption, CO2 and other greenhouse gas emissions, and water usage.
The environmental sustainability of our offices and related activities is a significant aspect of DPS Group's overall environmental sustainability strategy. Across our operations, our ecological consideration takes into account CO2 emissions (Scope 1, 2, 3), other greenhouse gas emissions, water usage, and waste generation and recycling.
We are members of organizations that promote sustainability, e.g., US Green Building Council.
Social Responsibility (S)
Social Responsibility for DPS means how we interact with our people, our suppliers, our community and our society:
To further protect our people and to continue our excellent record in safety, we are proud to have expanded our Health & Safety programmes into areas of notable importance, such as mental health and overall wellbeing. For DPS, adopting a holistic approach to health, safety and wellbeing is a leadership imperative.
For our people, we aspire to become an Employer of Choice through continued meaningful engagement, best practice leadership, and the long-term investment in our workforce.
It is our firm belief that we can provide real purpose to every individual at DPS by supporting our clients' delivery of life-saving treatments and life-changing technologies.
We operate on three continents and see ourselves as a global firm, living the ideals of diversity and equity through our diverse, multi-ethnic workforce, reflecting the societies and communities we operate in.
We use a sustainable procurement process to select suppliers who align with our ESG values. We review suppliers regularly to ensure their people, ethics, and environmental sustainability standards remain compliant.
We think global but act local and have a CSR programme to give back to the local communities and societies in which we operate, e.g., our Aspire2 programme helps raise third level participation from teenagers in disadvantaged areas, and our DPS Volunteer Day allows our personnel to support worthwhile local charities and initiatives.
Governance for DPS embodies ethics, management structures, and risk management:
An ethical approach to business has long been a cornerstone of the DPS philosophy, and we are rigorous in the enforcement of our policies.
Effective management structures help ensure the long-term sustainability of our business. We follow the latest corporate governance guidelines regarding the roles and division of responsibilities of our Boards and Management Teams, as well as other management controls and reporting mechanisms.
We have a risk framework in place aligned with ISO 31000.
"Our general philosophy is not simply having policies, measures, and reports for ESG but making a real impact and a real difference with our people, clients, suppliers, communities, societies, and our planet."
Tell us about your project
and discover how DPS can help you today